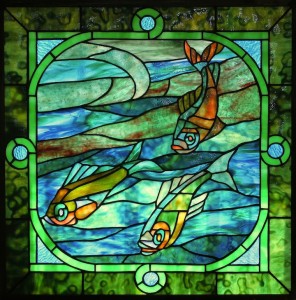 This summer has been chock full of window projects large and small. A local client commissioned a set of three piano windows featuring a water/pond theme. The windows depict blooming iris on the bank, lotus in full flower floating on the surface of the pond, and fish swimming merrily under the surface of the water. The windows can be installed in any order from left to right.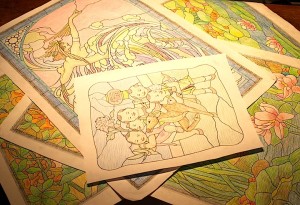 Bill has spent a much time during the last few weeks getting drawings ready for upcoming window projects. Bill always draws our designs by hand full size. The drawings are colored in to give a general impression of the types of colors we can use in the pieces. Some of the window drawings (cartoons) for upcoming projects are shown above.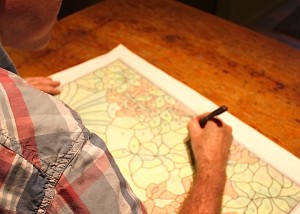 Once the cartoons are approved, we begin production by numbering each piece within a pattern. This provides us with a quick reminder that helps us remember where each individual piece fits into the design throughout the process of making the window. After numbering the cartoon, a production copy of the cartoon is created which will be cut up to use for glass selection. The original hand colored cartoon remains intact as the master plan for the piece.