Looking for a perfect stocking suffer or hostess gift this Holiday Season? Glass Scarab Paperweights make a wonderful gift for anyone on your list.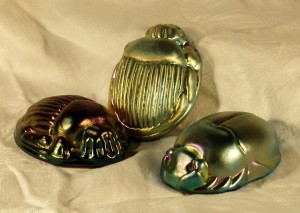 Cast in solid glass and finished with an iridized lustre surface, our Glass Scarabs come in two styles (smooth or ribbed) and several colors. At $30.00 each, these unique paperweights are an affordable, hand made gift idea.
Every day from now until December 23, Century Studios will showcase an item from our showroom here on our blog.