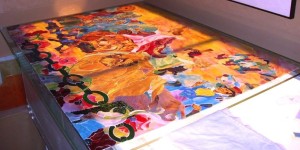 Over the past week, Bill has completed cutting and fitting all the pieces for the Oz window. He has also finished all the painting and firing, so it's ready to start assembling. Above, you can see the window laying on a light table – the window is wider than the table, so the entire image isn't lit. The shadow running down the center of the window is a support bar in the table.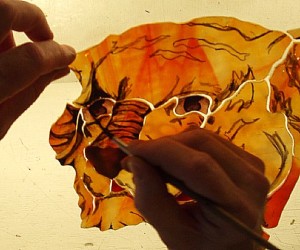 In the photo to the right, Bill is hand painting the face of the Hungry Tiger. When painting and firing on glass, the glass chosen must first be tested by firing a sample piece in the kiln to make sure the color and transparency does not change. You can see in the photo that Bill has blocked in the areas he wants to paint, then has to go back in to add color, texture and shading with the glass paints. This process takes a lot of skill and patience. The photo below shows the completed face.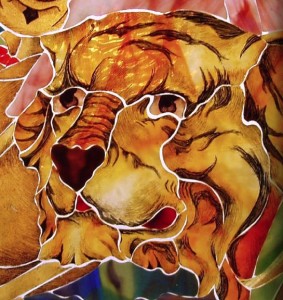 So what has Irwin been doing all this time? Well, he was soldering the Renoir By the Sea window and then he has been working on a small lamp for a local client – more on those projects in later postings!