Century Studios is pleased to present a new design to our line of reproduction Tiffany Studios shades, the 22″ Zodiac. Zodiac symbols were a popular design element and adorned many items created by Tiffany Studios including mosaic panels, desk set items and lamps. The same symbols and decorative filigree work used by Tiffany on all their Zodiac wares appeared for several years on the cover of St. Nicholas, a children's magazine from that time. The artists at Tiffany Studios found inspiration in many places!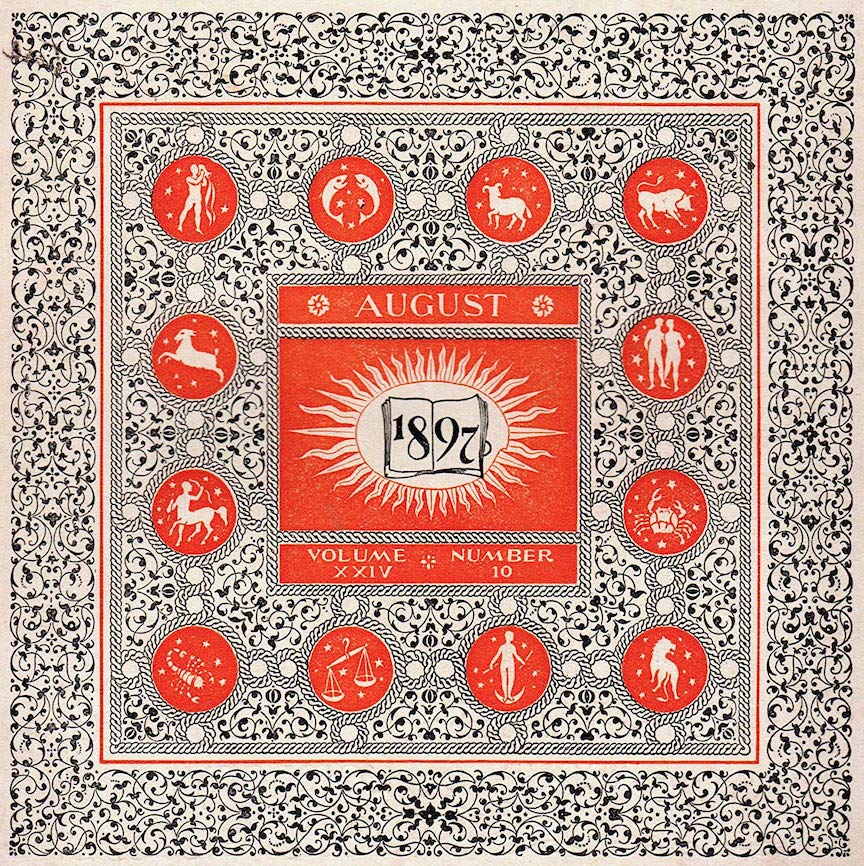 The 22″ Zodiac is a shade with many special elements. Each of the twelve zodiac symbols is represented by a brass filigree medallion. Additional filigree medallions adorn the surface of the shade. Each section of the shade has a large round turtleback tile.
Creating all the elements for this shade began in the 1990's when we acquired a pattern rubbing off an original Tiffany shade, the mold to press the round turtlebacks, one set of filigree, and an accurate profile for the shape of the lamp form. We began the process by making the lamp form, which is a modified dome/turban shape. At that time we pressed several sets of turtleback jewels using a friend's glass furnace, but the stumbling block was the filigree, so the project took a back seat to the other lamp patterns we were developing. We recently revisited this project, making the filigree, finalizing the pattern work, and having new turtlebacks pressed so we could finally put this shade into production.
Choosing colors for the shade began with the red turtleback tiles. The rope borders are a fiery amber tone and the areas inside each of these bordered vignettes is a lively mix of blue, yellow and green. For the background areas that surround the vignettes, we chose a rosy purple mixed with blue and yellow. The completed shade has a warm, friendly glow.
The shade is pictured on the Large Lion's Foot base (28″ tall). This lamp was created as a showroom piece and is now in a collection in North Carolina.