We recently received a couple of new Wally Birds from Bur Oak Pottery. These three pieces were intended to be part of a larger grouping, but the others did not survive the bisque and glaze firings intact. All pieces by Bur Oak are hand sculpted in stoneware, then fired in a wood fired kiln with a salt glaze. The heads are movable and removable to store treasures inside! Each piece is mounted to a hand turned painted wooden base.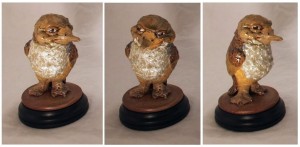 Cunning Bird – 10.25″ tall – This plump fellow knows where all the best worms are, but he is keeping this knowledge to himself.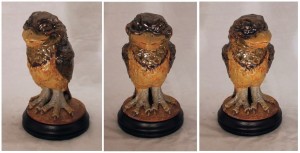 Mischievous Bird – 12″ tall – This guy knows the answers to all the questions, but is not telling.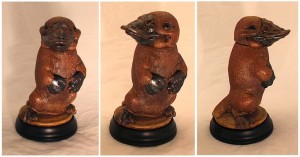 Platypus Jar – 13.5″ tall – Not strictly a Wally Bird, this jolly fellow is ready to plunge off his pedestal and go for a swim.