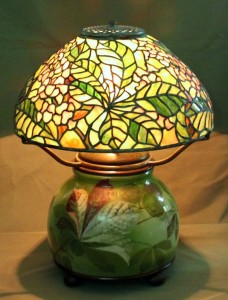 Century Studios is pleased to present another new original shade design, the 14″ Chestnut. Taking our inspiration from an antique hand painted glass lamp base, Bill Campbell created this wonderful shade design.
Designing a new shade pattern is always a challenging prospect, even when the shade is small. Bill referenced not only the painted lamp base, but also photographs of chestnut trees in bloom.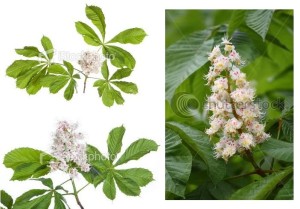 This shade has a three repeat design, and getting each third to flow harmoniously together took a lot of fiddling and skill. The resulting design has a fullness and depth, showing the leaves and flowers of the chestnut in full bloom.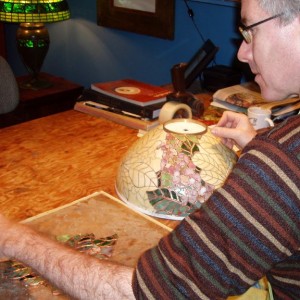 The shade colors were chosen to work with the glass base. The light green background and pale pink/white flowers are contrasted with deeper greens in the leaves. This design would be equally stunning with bolder tones for the leaves, flowers, and background.
In the above photograph, Bill is shown moving the foiled pieces of glass onto the waxed form for soldering. Below, a close-up photograph shows the detail of the design.