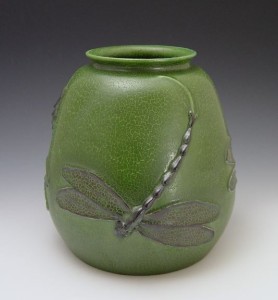 LIMITED EDITION DRAGONFLY VASE #12
Century Studios is pleased to announce the next in our exclusive series of limited edition dragonfly pots, created annually by Ephraim Faience Pottery. This vase is the twelfth in our ongoing series, and is approximately 5" tall and 5.75" wide. The vase features three dragonflies in relief and is finished in Antique Green background glaze. This is a signed, numbered, limited edition piece that bears the Ephraim Faience Pottery hallmarks as well as the Century Studios logo signifying that it is an exclusive piece for our studio. The pre-order price for this exclusive piece is $238.00 (plus shipping and/or sales tax).
Century Studios is offering this rare piece of Ephraim Pottery to our clients on a pre-order basis. The exact number of pieces to be created in this pattern will be determined by how many vases are ordered in advance – with a maximum edition of only 50 numbered pieces. We are limiting quantities to one per client.
To pre-order this piece for your collection, you must contact us at 651-699-4838 by FRIDAY MARCH 5, 2010. All pre-ordered pieces must be prepaid in full. Production time for this issue will be approximately 8 – 9 weeks and should arrive at Century Studios in May 2010.